Stash list-needlecrafts
Bent Creek's Lil Jack + the Kitty
Patricia Allison' Dragon Carousel (signed) and A Dragon's best Friend
Black Swan Designs' Dragon Heart
Kustom Krafts' In the Garden
Dragon Dreams' Dancing Dragons and I'll Make my Own Happy Ending
TW's Carousel horses
TW's Tropical Dream
The Best of TW's fantasy collection (vol 1). This c
ontains 10 fantasy designs: Carousel, Castle, Castle Sampler, Magical Night, Day, Night, Rapunzel, Pegasus, Stroke of Midnight, and Unicorn.
Design Works' Mystical Wizard:
Waltz
Grand Ball
Dance me out
Street Tango - Vervaco
Put On Your Red Shoes - Anchor
The Priestess-Mystic Stitch
Unicorn Princess - DMC
Be A Dragon by Enchanting Lair
Mermaid's Love Tokens by Praiseworthy Stitches
Dancing Couple - Vervaco
Frog Pile - Design Works
Pot of Flowers - Dimensions (crewel)
Holiday Tree V
Watergarden
Cirque Des Cercles
Dragon's Eye
Looking Glass - Black
Sleepy Hollow
Blue Dragon Fairy
Midnight Waltz
Purrfect
Indian Peacock
Water in Forrest
The Horse Fair
The Love Letter
Blue Waterfall
Stitching the Standard
The Swing
The Love Letter
Meeting on the Turret Stairs
Ancient Dragon Scholar
Bedtime Tales
Celtic Dragon Lands
Wizard by Design Works.
Dragon Circle.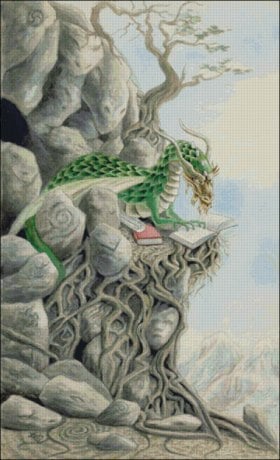 Then I got good news which coincided with their 25% off afghan sale so I didn't feel guilty about spending...